CEMS APAC Week 2021
Published on
Apr 06, 2021
CEMS APAC Week 2021
perrinna
Tue, 04/06/2021 - 15:58
For the second year in a row, the CEMS Global Alliance organized a virtual APAC Week. Designed in close collaboration with the CEMS Asian-Pacific schools (The University of Sydney Business School, HKUST Business School, Tsinghua University School of Economics and Management, Indian Institute of Management Calcutta, Keio University, Korea University Business School and National University of Singapore), this event took place from March 9 to 19. News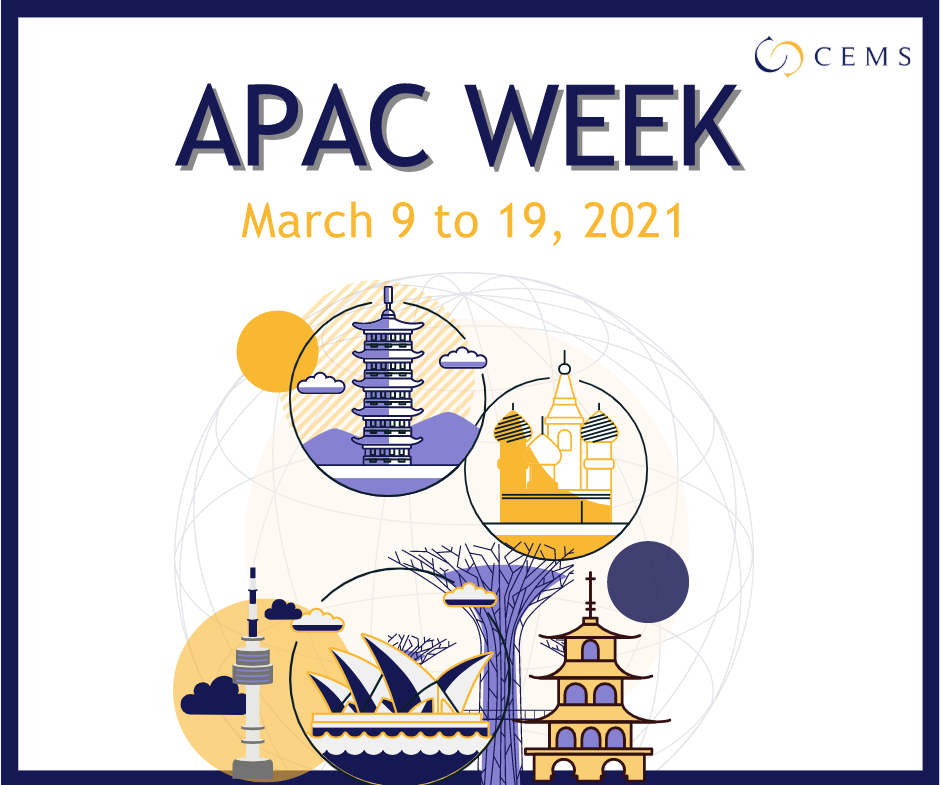 The APAC Week was a 10-day recruitment and learning event with numerous activities for CEMS students.
First, around 50 pre-scheduled interviews were conducted to discuss internship and job positions with CEMS Corporate Partners, including AlphaSights, Amplifon, Daimler, Hilti, Jardine Matheson and Richemont.
In addition, three skill seminar were organised by AlphaSights, China CITIC Bank International and United Overseas Bank. Over 70 students had the chance to receive professional training in project management, presentation skills, knowledge search, critical thinking, negotiations, the future of banking, regulatory compliance issues and cybersecurity. This was also an opportunity for CEMSies to receive insights from senior management, including Ms. Helen Kan, alternate CEO for the company and CEMS Strategic Board Member.
Moreover, over 150 CEMS students joined webinars organised by Hilti, Jardine Matheson, McKinsey&Company and Richemont. The speakers included recruiters, consultants and CEMS alumni located in Asia-Pacific who kindly shared insights about recruitment and career opportunities in their respective companies.
Finally, this year's CEMS APAC Week was concluded by the CEMS Global Meetups organized and moderated by the CEMS Student Board. For this 2021 edition, we welcomed CEMS alumni working and living in Australia, Hong Kong and India. The speakers shared their career experience in Asia-Pacific.
The CEMS APAC Week provided a unique occasion to cast further light on the continuously growing CEMS Asia-Pacific region, allowing students and alumni to connect with CEMS Corporate Partners and prepare their next career step.