CEMS Business Project of the Year: Crowdsourcing for Retail Store Compliance
Published on
Dec 17, 2021
CEMS Business Project of the Year: Crowdsourcing for Retail Store Compliance
rosinski
Fri, 12/17/2021 - 12:07
In collaboration with CEMS Corporate Partner Plzensky Prazdroj and their HQ ASAHI Europe & International (hereinafter Asahi), Prague University of Economics and Business has won the Business Project of the Year for the project Crowdsourcing for Retail Store Compliance. CEMS Business Projects, conducted with Corporate Partners, allow students to integrate theory and practice in multicultural diverse teams, tackling real business issues, across a range of fields. News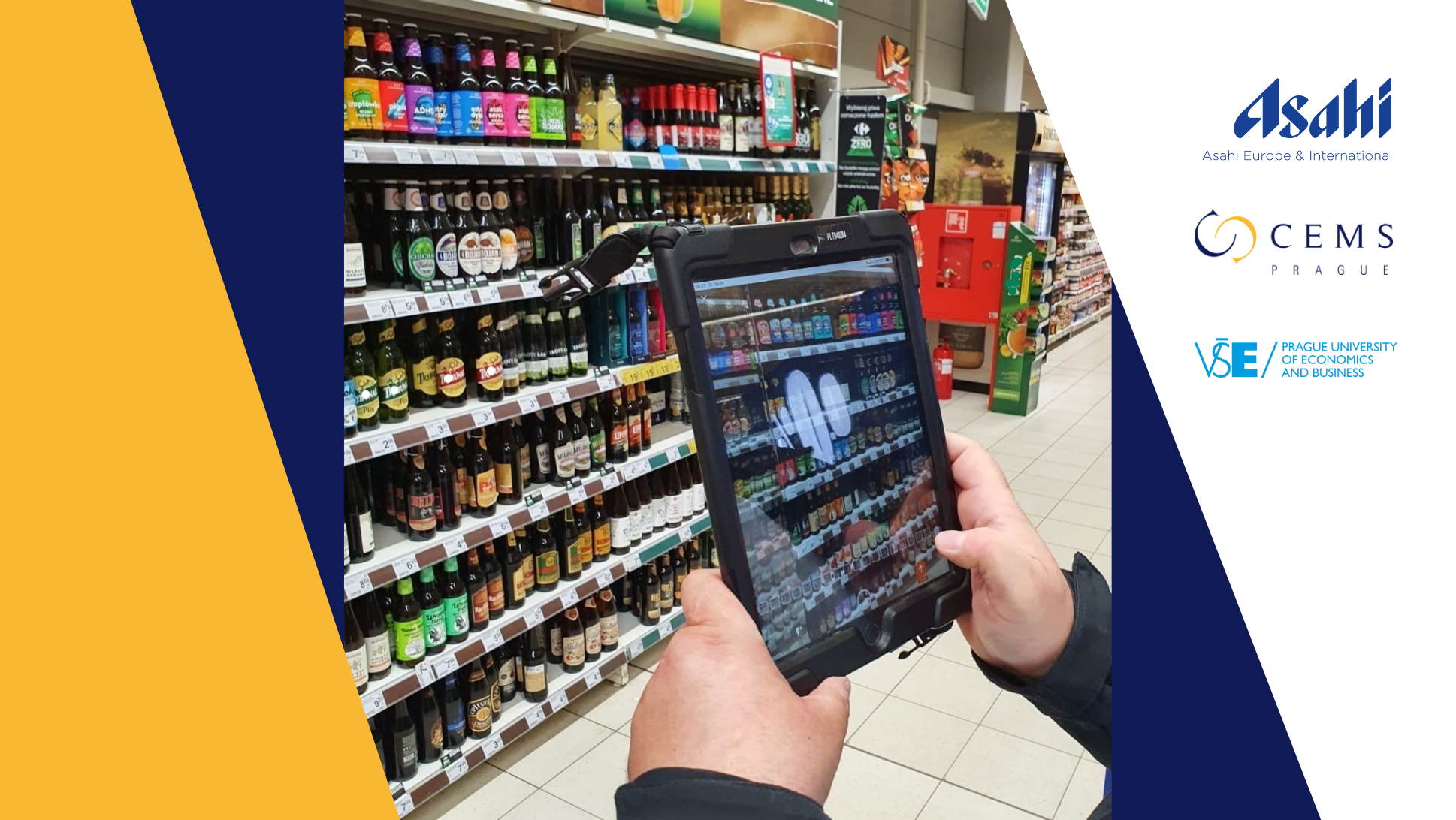 Retail execution is a business process designed to ensure that consumer goods companies' overall brand strategy executed in retail stores is implemented correctly in compliance with brand guidelines. These are designed to put the right product on the right shelf at the right time to provide the ideal shopper experience. A survey conducted by an external agency suggests that 49% of companies lose sales due to stock-outs, while 45% lose sales due to fewer displays.
As retail audits are crucial to monitor the situation and, at the same time, the current process is outdated and very demanding in terms of labour, Tomas Srb, Bhuvan Pawar, and Riccardo Ferrari of Asahi addressed CEMS students with a clear goal: to have an around-the-clock technology-based monitoring system.
Under the supervision of Professor Vaclav Stritesky, VSE FBA Department of Marketing, CEMS students Alexandre Clostre (HEC), Hanna van Velzen (RSM), and Isidora Zivkovic (UB) set out to tackle this issue. Using retail store-checks, focus groups and interviews with users, the students followed up with quantitative research based on questionnaires. They also leveraged case study analysis, financial analysis and expert interviews to develop their proposed solutions. The team delivered a very promising solution based on crowdsourcing. It combines uberized auditing and gamification aspects.
"Students approached the decision making with critical sense and accuracy and developed a creative way to find new solutions. If the purpose of the initiative was to prepare the students with the best knowledge and skills for the business world of our days I can affirm that the objective has been fully reached." ASAHI mentor Riccardo Ferrari
"I am happy that this project allowed me to dive deeper into the FMCG industry and manufacturer vs. retailer relationships, the touchpoints with Tech and Consumer Behaviour provided a fulfilling, yet complex, learning experience. Thank you Bhuvan, Riccardo and everyone else from Asahi that has devoted time, and offered valuable advice." CEMS Student Hanna van Velzen
Students were grateful to Asahi for granting them so much freedom, allowing them to explore different fields, from the industry specifics of retail store auditing to customer engagement alongwith application development. Besides, the challenge that this project consisted of had been mitigated by the continuous support of the mentors. The students also showed great enthusiasm and the ability to work in a team.
"On behalf of the CEMS Global Alliance, congratulations to Alexandre, Hanna, Isidora, Professor Vaclav Stritesky and the VSE CEMS team, and CEMS Corporate Partner Plzensky Prazdroj and their HQ ASAHI for this fruitful work and collaboration!" Nicole de Fontaines, CEMS Executive Director